The best brunch in Long Island City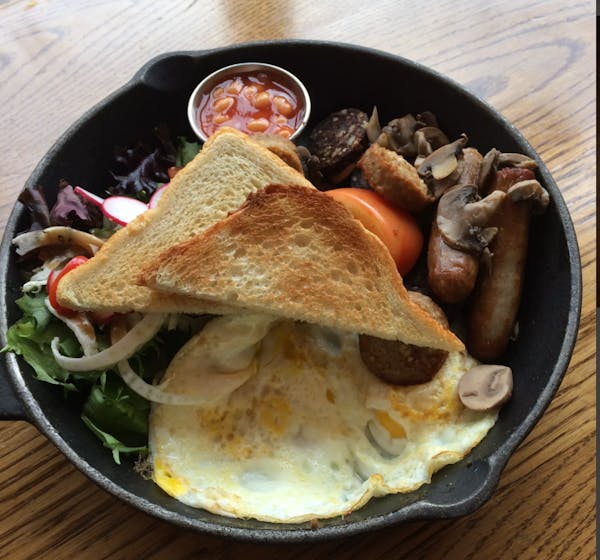 After a great night on the town, you look forward to a great meal in the morning (or early afternoon!). In most great brunch spots in NYC, this means long waits, crowded conditions, harried servers and a subpar experience.
Skip that scene. Woodbines offers a spectacular weekend Long Island City brunch on Saturdays and Sundays. You can stroll in anytime between 11 a.m. and 4:00 p.m. We promise – no long waits, and you'll receive the stellar, attentive service that you've come to expect from our outstanding staff.
Call us at 718.361.8488 for reservations, or click here to reserve on OpenTable.
We truly have something for everyone. The best NYC brunch menu includes:
The best traditional Irish breakfast in Queens: Eggs, Irish bacon, black &white pudding, Irish sausage, sautéed mushrooms, grilled tomato, baked beans, toast, and home fries
Scotch Egg - Hard-boiled Egg wrapped in Sausage, Breaded, Deep-fried, served with spicy mustard
Breakfast Burrito - Scrambled eggs, bacon, Irish sausage, and Irish cheddar. Served with home fries and hand-picked greens
French Toast - Thick-cut challah bread with maple bacon syrup and home-made strawberry butter
Woodbine's Omelette: Bacon, peppers, onions, Irish cheddar. Served with toast, home fries, and hand-picked greens.
and many more choices!
We also offer 12 craft beers on tap and outstanding Bloody Mary's, Mimosas and other brunch cocktails!
So enjoy your night out, knowing exactly where to go when you wake up. Soon, you'll share the view of those who wrote these recent stellar reviews of Woodbine's brunch on Open Table:
Are you having a brunch party? We also offer a restaurant take-over brunch party option.
We are also an upscale, family-friendly restaurant in Long Island City, with a kids menu and a comfortable atmosphere.