Long Island City has the two best indoor rock climbing facilities in NYC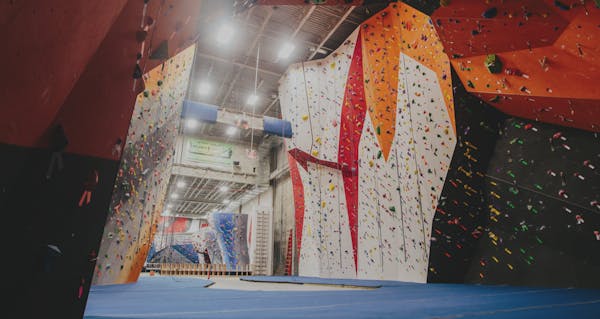 Long Island City is known for its beautiful views of Manhattan, but this burgeoning neighborhood is quickly growing into a destination for all New Yorkers. One reason is that it has two of the best indoor rock climbing facilities in NYC.
The Queens Chronicle recently wrote this splendid article about The Cliffs, a massive facility with options for every level of climber.
From bouldering to top-roping, they have you covered. In addition, their extremely friendly staff is always around to help you out. If you're new to climbing, check out some of their great intro classes! As an added bonus, The Cliffs also has a small fitness area.
Check it out for yourself, and soon you may be sharing some of these lines from reviews of The Cliffs on Yelp:
"The staff, climbers and route setters all make a great community."
The Cliffs has such a special place in my heart."
"I've climbed all over the world and this place is great."
"The gear shop is also the best of any gym in the Northeast."
"Did I mention they allow dogs? I always meet the cutest dogs there."
For more info on memberships, classes, events and everything else you need to know, check out their site HERE
Brooklyn Boulders
You may not think there's room in such a relatively small neighborhood for two climbing facilities, but Brooklyn Boulders would definitely prove you wrong. An awesome climbing space with options for every experience level, what sets this place apart is its unique events. From concerts to candlelit yoga with chocolate and wine, you'll be constantly surprised by what they've got going on!
Find out everything you need HERE
After you've had your fill of climbing, it's time to kick back with a meal and a drink. Come visit us at Woodbines, the best restaurant in Long Island City! Located at 47-10 Vernon Boulevard. It's the best restaurant near The Cliffs and Brooklyn Boulders.
Craft beer. Hearty food. Old-school charm. Woodbines is an authentic neighborhood pub where the drinks flow and the food satisfies; where conversation is celebrated and good times remain the goal. Reclaimed wood, vintage touches, and turn-of-the-century lighting set the stage for however long you wish to stay. The menu is a mix of traditional Irish dishes and American favorites, made to be enjoyed at the bar, around a table, and late into the night.